Besides how your website looks, there are important pages that must be included in your website as a corporate business to effectively help the user experience of visitors to your site. Below are the 10 pages that are standard to corporate websites, the pictures explain it all.
10 Most Have Pages For Corporate Websites
Home Page
This is where you provide a summary of who you are and what you offer. At a glance, a visitor should be able to tell who you are and what you do. Your message should be clear and concise.
It is important to make navigation easy for visitors. Use clear and eye-catching Calls-to-Action (CTAs) – what you want the visitor to do.
Also, make good use of visuals wherever possible to capture the visitor's attention.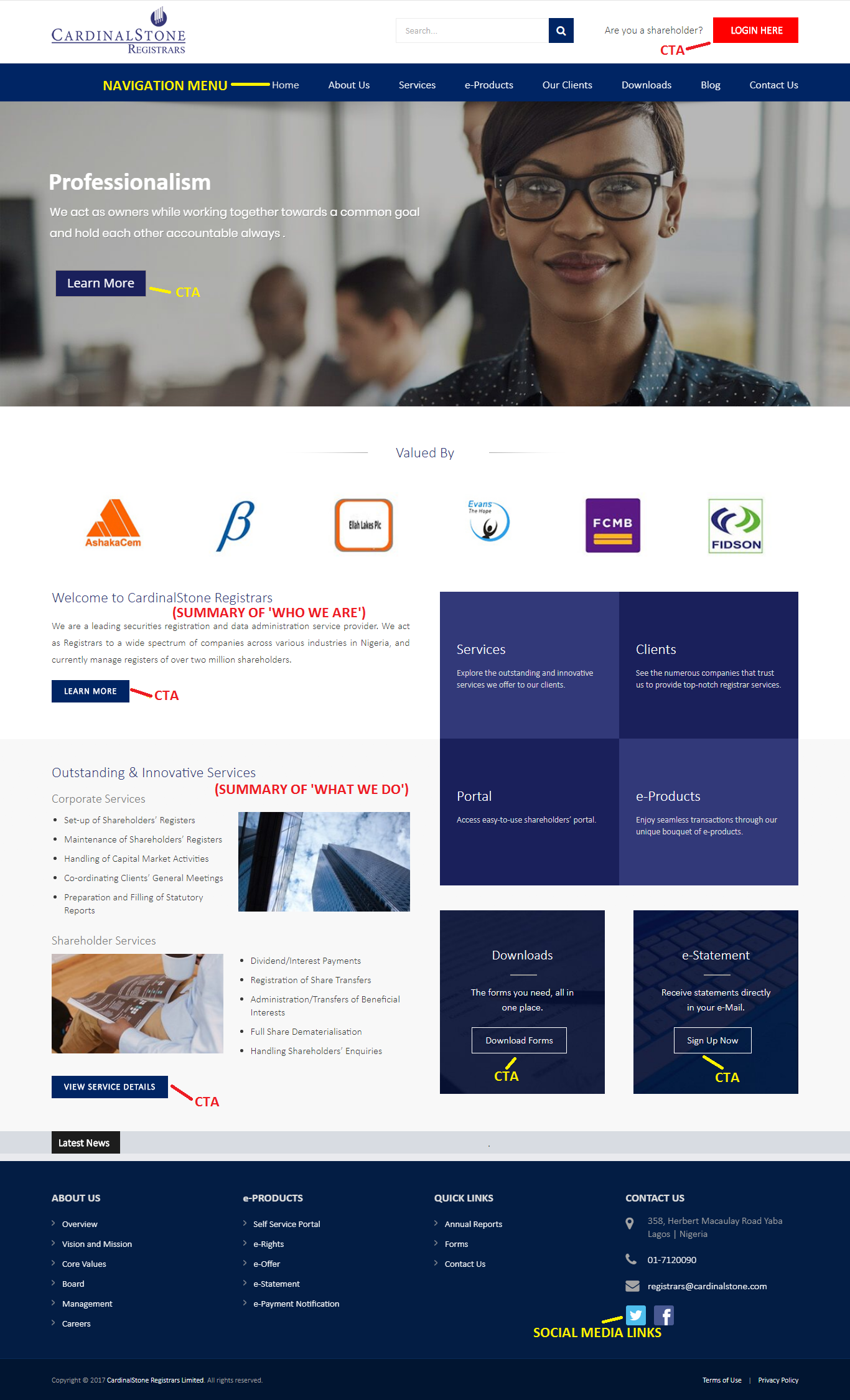 Website Home Page: Cardinal Stone Registrars
About Page
This is where you provide an overview of the history of your business and educate your visitor about how you are different from your competitors. Also, include your core values, vision, and mission statements. There are three key questions this page needs to answer:
Who are you?
Why are you doing this?
What makes you different?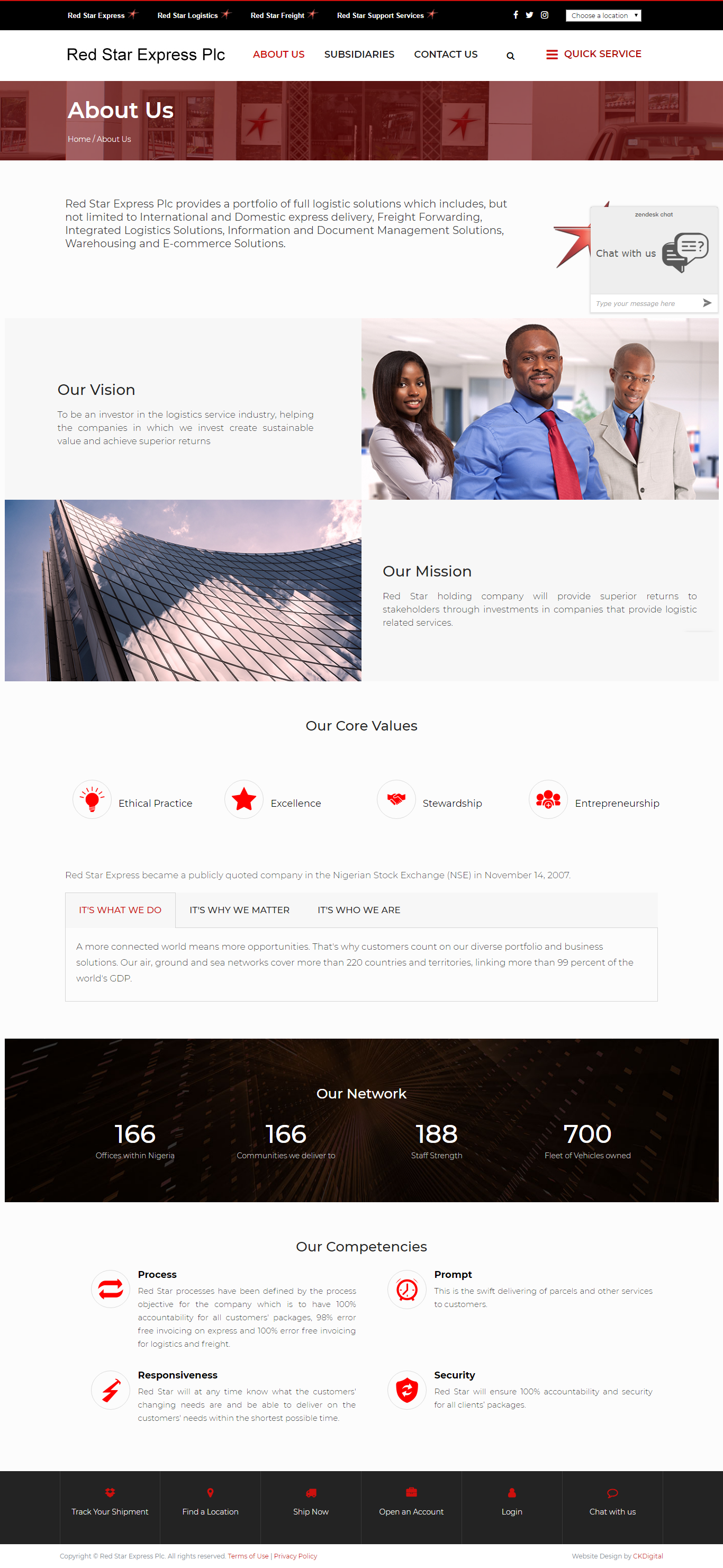 Website About Page: Red Star Express PLC
Team Page
This is a good place to show your resourceful team as part of your organizational work. People want to see the individuals who make up your company before working with you.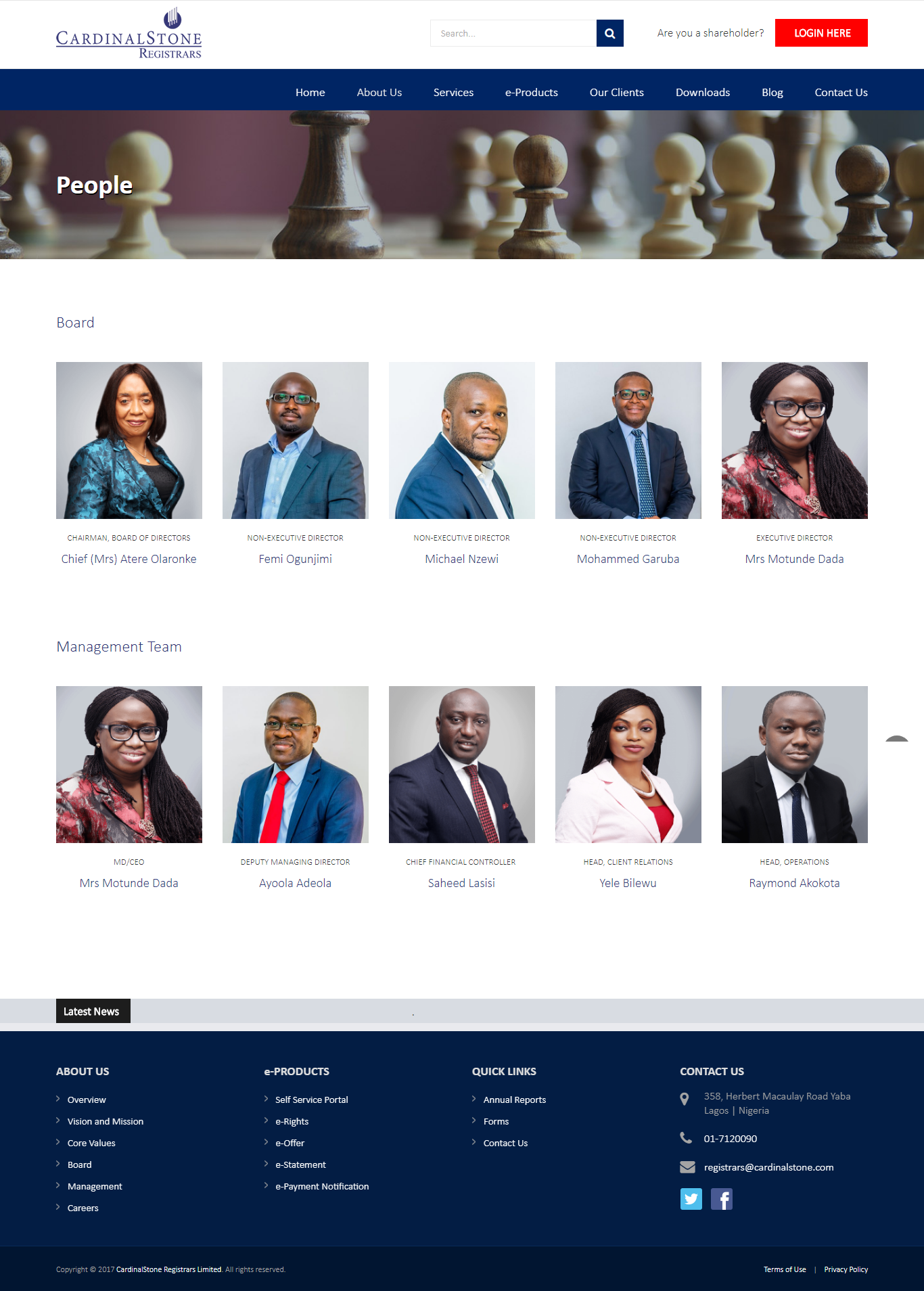 Website Team Page: Cardinal Stone Registrars
Services Page
This is where you provide information about all the services you offer. The information should be structured as below;
Setup the value that your service provides
Explain how you deliver it differently
Introduce your proven process for delivering it effectively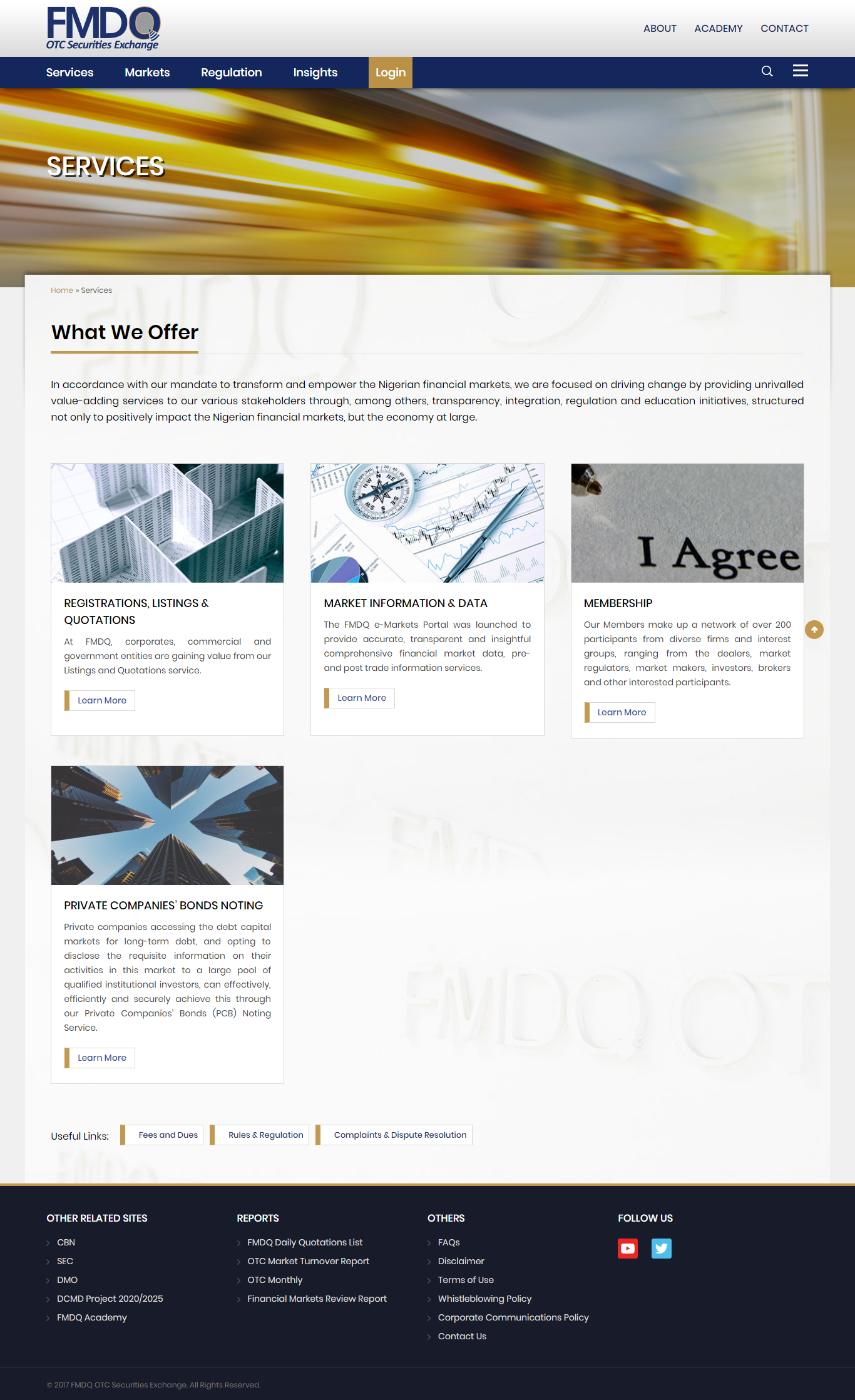 Website Services Page: FMDQ OTC Securities Exchange
Portfolio/Case Studies Page
This is where you showcase your previous projects and show your visitors what you can do.
Website Case Studies Page: Resourceful Dev Portfolio 
Testimonials / Clients
This is where you show your site visitors what your clients think about your service. It enhances credibility, trustworthiness, and your dependability.
Blog/ News & Media Page
This is where you post news or helpful content. This is your chance to show potential customers you know what you are talking about.
Website News&Media Page: resourceful dev blog
Contact Page
This is where you provide your visitors with all of the different ways they can get in touch with you by putting the information they're looking for -an email address, phone number, contact form, map, mailing address, etc. Use CTAs that allow the user to contact you easily.
Website Contact Page: Resourceful Dev contact
Privacy Policy Page
This is the page where you need to outline how any information you collect will be used and if it will be shared or not.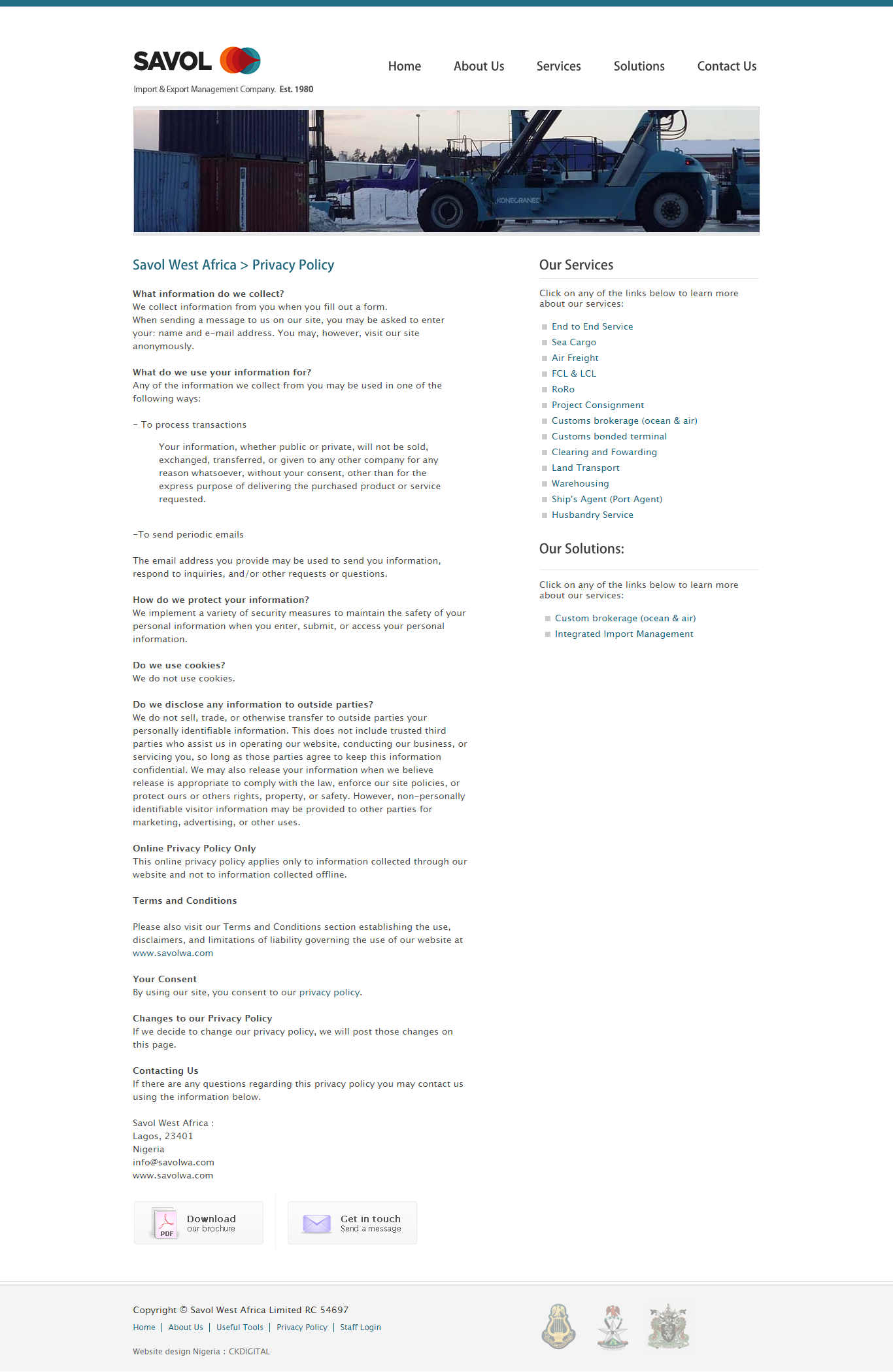 Website Privacy Policy Page: SAVOL West Africa
Terms of Use Page
This is where you display rules your customers must agree to in order to use your services.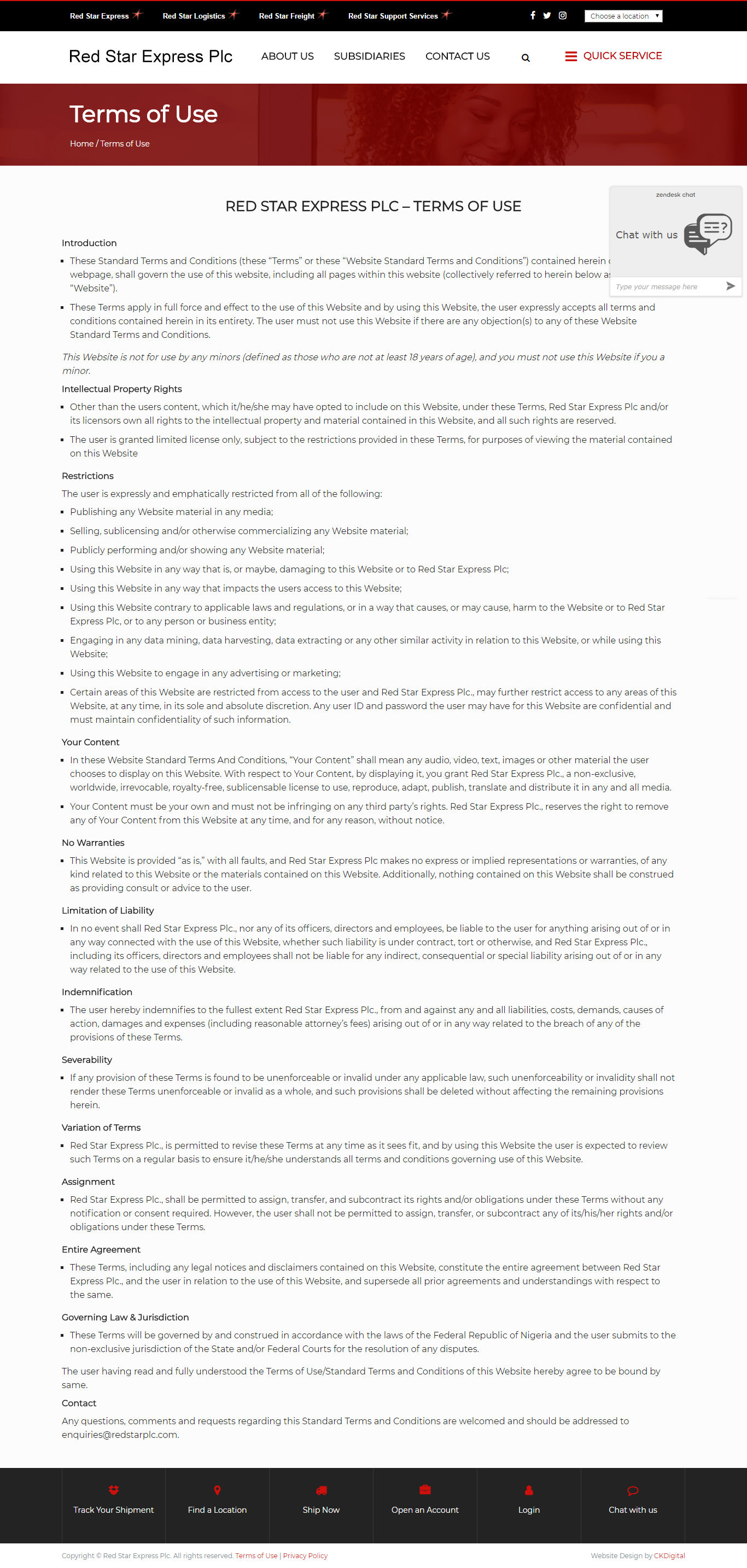 Website Terms of Use Page:  Red Star Express PLC